We've received quite a few enquiries from people having trouble logging-in so we've produced this post to help you.
We are planning on making a few changes to the process to make it easier but hopefully this post will assist you in the interim.
To log-in to oddshoefinder, you must first be registered.
To register, please visit http://www.oddshoefinder.com/register and complete all the details.
Once you've registered, to log-in, go to the top right of the website and enter your email (the one you registered with) in the grey box where it says "your email".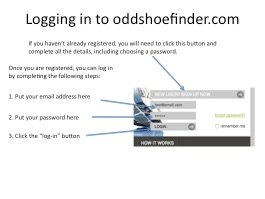 Enter your password in the grey box below that (the box with the five dots).
Then press "log in"
Once you're logged in you will be able to access the "user menu" which you can use to add a shoe listing, edit your profile etc
To log out, press the logout button in the top right (which only appears when you are logged in).
If you have forgotten your password, click the link for 'forgot password' in the top right and you will be emailed your password.