Characteristics of Foot-Friendly Sandals
Characteristics of Foot-Friendly High Heels
Tips for Enjoying Your Heels without Injury
Characteristics of High-Quality Dress Shoes
Glossary: Shoe Types and Styles
Certain shoe-fitting principles can be applied to just about any article of footwear: Does the shoe properly support your arch and cushion your heel? Is the toe box wide enough for your toes to lie comfortably flat? And most important,is the shoe comfortable?
But that is not to say that a boot
should fit your foot like a high heel
or that a sandal
should fit like an athletic shoe. (Unless you take after the Ancient Greeks and wear sandals
when you throw the javelin!) Shoe fit is determined by shoe function, and different shoes are definitely designed with different goals in mind. You want a high heel
that will make your legs look divine and a sandal
that will be comfortable at the beach.
In this section, you will discover how to:
find a sandal you can wear walking, running, or backpacking
choose a high heel that does not hurt your feet
pick out a high-quality leather dress shoe
and much more! Choosing your shoes with specific goals and fit-features in mind will lead to many happy years of use.
Characteristics of Foot-Friendly Sandals
Just because it is summer does not mean you get to take a vacation from proper footwear! Sandals
come in all sorts of designs that are fashionable and orthopedically smart.
Look for sandals
with a:
Flexible Forefoot: A flexible forefoot will help you to roll through your foot from heel to toe without altering your natural stride. Avoid sandals with rigid soles that cause the feet to "slap" the ground.
Note: A sandal
with a flexible forefoot is not the same as a sandal
with a soft, bendy sole. You are looking for a sandal
with a gentle flex, not a sandal

that you can bend in half. The sole should be firm enough to give your feet proper support.
Contoured Footbed: Many sandals sport flat footbeds that offer little support. Look for sandals with contoured footbeds designed to complement the natural curves of the feet. Contoured footbeds usually include some kind of arch support, heel cup and toe grip.
Ankle Strap: It does not matter if your sandal closes with a bucklel
or hook and loop fasteners such as Velcro®. What is important is that the shoe holds your foot securely in place. The foot should not travel back and forth in the footbed, and the heel should not slide up and down. Look for sandals with straps that encircle the ankle.
Cushioned Midsole: Look for sandals that offer shock absorption features. Cushioning in the heel is particularly important as this is the part of the foot that bears the brunt of your weight.

The Problem with Flip-Flops

Forget the pool or the beach; you can spot flip-flops just about anywhere. Whether people are heading to a party or climbing into the shower, chances are someone's feet are adorned with these flexible thongs.
Without a doubt, flip-flops
have some excellent selling points: They are comfortable, cheap and easy to slip on and off. They keep your feet cool and they come in every color imaginable. Unfortunately, flip-flops do your feet no favors in the long run.
A recent study conducted at Auburn University revealed that wearing flip-flops
for extended periods of time can seriously harm the health of your feet, ankles, hips, and lower back. A team of researchers videotaped 39 volunteers wearing flip-flops and then wearing traditional athletic shoes. The study revealed that wearing flip-flops
had negative consequences on a person's gait. Study participants tended to grip the footbed with their toes in an effort to keep the flip-flops
on their feet. This motion not only leads to sore and stressed toes, it also negatively affects the plantar fascia—the connective tissue that runs along the bottom of the arch. Flip-flops
wearers also tend to take shorter steps and land with less force on their heels. This means that the rest of the foot has to work harder in order to make up for the heel, which usually absorbs the majority of the impact each time the foot strikes the ground.
The study does not suggest that we should give up flip-flops altogether. Instead, the message is one of moderation. Flip-flops
were designed to be worn between the locker-room and the pool. They are not meant to be worn all day, every day for months at a time. If you are a habitual flip-flops
wearer, consider alternating between flip-flops
and supportive sneakers. Or try wearing flip-flops
no longer than 5 hours at a time. Flip-flops
should also be discarded every 3 to 4 months. Like athletic shoes
, they lose their ability to cushion your feet over time.
Have you ever considered hiking in a sandal
? What about playing soccer? Or going for an 8-mile run? Specialty sandals are all about taking the sandal anywhere a closed-toe shoe can go.
Walking sandals

are designed to be worn on short- and long-distance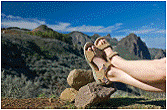 walks. They are heavier and more durable than regular sandals and should provide excellent traction and cushioning.
Look for walking sandals

with:
Sturdy, Adjustable Straps. The sandal should fasten securely to your feet so that your heel does not slide up and down and your foot does not slide forward and back in the footbed.
Toe Guards. An optional feature, the toe guard is designed to keep grit and dirt out of your shoes and to prevent you from stubbing your toe.
Walking sandals

sometimes come with fit-features similar to running and walking shoes
. You can find walking sandals
with motion control, stability, and cushioning features.
Be sure to choose a sandal designed for your specific physical activity.
Trail sandals

are made to be used on natural trails and backpacking trips.
Look for sandals with:
padded straps to prevent irritation and blisters
anti-pronation midsole plugs (if motion control is necessary)
excellent traction features on the outsole
Tips
Choose sandals
that are lightweight. You will have to carry them in your pack! Also, avoid leather sandals; they tend to not hold up well on the trail.
Casual walking sandals
are made for casual in-city walkers.
Look for sandals with:
cushioned heels and arch support
padded straps to prevent irritation and blisters
waterproof material to keep feet dry
Tips
Leather sandals are an excellent choice for casual walking sandals, but make sure the leather is waterproof.
Athletic sandals
are designed to support and protect the foot during rigorous athletic activity. Some people prefer athletic sandals over athletic shoes

because the sandals are lightweight and keep feet cool thanks to increased air circulation.
Like walking sandals, athletic sandals should sport adjustable straps for a snug fit. A toe guard or covered toe is particularly recommended for people who plan to exercise outdoors.
Running sandals are made for long-distance running and field sports.
Look for sandals with:
adjustable straps for a secure fit
midsole cushioning
anti-pronation midsole plugs
excellent traction
flexible forefoot
mesh upper to promote air circulation
quick-drying nylon straps
Tips
Look for running sandals

that match your foot type. If you plan to run outside, or wear your sandals while playing team sports, be sure to choose sandals with a covered toe or toe guard.
Water-sport sandals
are made for water skiing

and other water sports.
Look for sandals with:
quick-drying nylon straps
cleated or lugged rubber outsoles
toe guards
drainage ports

The Problem with High Heels
Here are some figures for you: Approximately 3.5 billion dollars are spent each year in the United States for women's foot surgeries. On top of that enormous cost, the female workforce misses 15 million workdays each year because of foot injuries and surgeries. Unfortunately, a great deal of these foot problems are self-inflicted, and one of the biggest culprits is the high heel shoe.
It is no secret that high heels
hurt your feet. Ask any woman who has spent the night teetering in 4-inch stilletos
. But what some women may not realize is the extent to which wearing high heels
contributes to long-term health consequences such as osteoarthritis and bunions. Unlike sore feet, these foot conditions do not go away overnight.

Characteristics of Foot-Friendly High Heels
Although high heels
do your feet no favors, few women are willing to give up their kitten heels
or 4-inch stilletos without a fight. If you must have your heels, then consider choosing high heeled shoes
that will reduce your risk of developing an injury or deformity.
Rubber sole. Although a leather sole is usually a sign of quality and high-fashion, rubber soles are actually kinder to your body when it comes to high heeled shoes. A rubber sole offers extra flexibility and increases your grip on the floor.
Solid heel. Itty-bitty heels increase pressure on the balls of your feet. By choosing a shoe with a wider heel, you can distribute weight more evenly between the heel and forefoot. But be warned: While wider heels are better for your feet, they do little to alleviate stress on your knees.
Two inches or less. Limit yourself to heels that are 2 inches or shorter. These shoes will give you enough lift to show off your legs and reduce the risk of foot injuries and/or deformities.
Tip
Platform heels give the illusion of a higher heel height.
Round or square toe. High heel styles that allow your toes to lay flat comfortably are a worthwhile investment. Pointy-nosed shoes that cramp your toes can lead to deformities such as hammertoe, bunions, corns, and Morton's neuroma. If you value the health of your feet, then square-toed shoes are always in style! Or better yet,opt for an open-toed shoe.
Cushioned ride. High heeled shoes come with cushioning and arch support too! Nike has even released a line of heels that incorporates its "Air Sole" technology. With a cushion of air under the ball of the foot and heel, the foot, ankle, and knees benefit from excellent shock absorption and support. Rule of thumb. Purchase high heels that have a thumbs-width of space from the big toe to the end of the shoe when you are standing.

Tips for Enjoying Your Heels without Injury
Tip #1: Break in your heels instead of breaking your feet.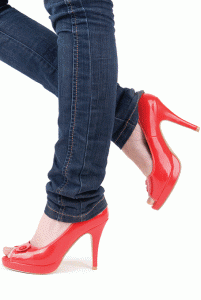 There is no need to suffer through blisters and calluses for a new pair of heels. The "break-in" process should be virtually pain free. Turn to Chapter 8 to learn about painless ways to soften a pair of stubborn heels.
Tip #2: Price matters.
When it comes to shoes, price is often a good indicator of quality. It is worth spending more money on one pair of quality, versatile heels than snapping up several cheap pairs. Remember: High heels
can have orthopedic features such as a pillowed heel and cushioned midsole.
Tip #3: Walk the plank.
Always test out new shoes on hardwood floors. Trying out high heels

on carpet will give you a false sense of cushioning.
Tip #4: Like most fine things in life, high heels
are best enjoyed in moderation.
Avoid wearing high heels
all day (or all night)! These shoes will do less damage if you only wear them for a few hours at a time. Pack a light pair of flats
in your purse so you can change out of your heels as soon as they become uncomfortable.
Tip #5: Who says being fashionable is not a sport?
Stretch your calves before and after you wear high heels
. This will lengthen the muscles (as well as the Achilles tendon) and could help prevent injury.

Characteristics of High-Quality Dress Shoes
Leather is the name of the game when it comes to choosing high-quality dress
shoes for men and women. These shoes may cost a pretty penny, but they will last through the years. In fact, many people find it less expensive to refurbish the same pair of high-quality dress shoes
than to replace lower-quality shoes on a regular basis.
For high quality dress shoes
, look for shoes with:
Leather Uppers: The uppers of your dress shoe
should be made from a high-quality leather such as napa or calfskin. It is also common for shoes to be made from full grain side leather, which is a slightly less expensive option. Women's dress shoes
are sometimes made from kidskin, which comes from young goats, and exotic leathers such as alligator or ostrich are also popular.
Inspect the leather for blemishes; a high quality shoe should not have visible scars or other markings on the leather.
For more information on how to care for leather shoes, please turn to Chapter 7.
Leather Soles: Some people aesthetically prefer leather soles over rubber ones. Others claim they are cooler in the summer, or more comfortable for indoor-wear. Whatever the reason, leather soles have become one of the hallmarks of a high quality dress shoe
.
Leather Insoles: Insoles
should be made from leather and not from layers of cardboard or other synthetic material.
Leather Lining: High-quality dress shoes
will sport a leather lining. Check to make sure that the lining is stitched together discreetly with smooth, sturdy seams.
Sturdy, Discreet Stitching: Dress shoes
should be stitched together, and the stitching should be barely noticeable. In particular, check to make sure that the sole is stitched to the body of the shoe and not glued.

Foot-Friendly Dress Shoes
Often high-quality dress shoes
are orthopedically friendly for your feet. There are some exceptions, however. Leather soles may be aesthetically pleasing, but rubber soles provide better traction and cushioning. Foot-friendly features such as spacious toe boxes, low heel height, and breathable uppers are still important even when shopping for shoes that will be worn on a rare evening out.
For foot-friendly dress shoes
, look for shoes with:
✓ Breathable Uppers: Most quality dress shoes
are made from leather. The quality of leather varies; look for shoes made from full grain leather with few blemishes. Leather shoes should allow air to flow through the shoe, keeping the foot dry and odor free. If you choose dress shoes made from synthetic materials, make sure that the material will not cause your feet to sweat.
✓ Rubber Soles: Rubber soles provide excellent traction and cushioning. They also hold up on wet, rainy days far better than leather soles, which can become treacherously slippery.
✓ Spacious Toe Boxes: Choose dress shoes
that are wide and deep enough for your toes to comfortably spread out. You should have plenty of wiggle room without feeling like your foot is sliding around inside the shoe.
Note: A well-fitted toe box is one of the most crucial features when it comes
to preventing common foot deformities.
✓ Smooth Lining: A quality dress shoe
should sport a smooth lining with clean seams and edges. Look for shoes that offer a seamless or "soft" fit; this will minimize irritation that can lead to blisters and calluses.
✓ Low Heel: Try to keep heel height between 1/2 and 2 inches.

Glossary: Shoe Types and Styles
Antiquing: A leather finish designed to make shoes appear weathered. The effect is usually achieved with polish.
Athletic Shoes
: Closed-toe, rubber-soled shoes designed to support the foot during physical exercise and enhance athletic performance.
Ballerina Flat
: A woman's flat inspired by the ballet slipper. Ballerina flats are low cut (i.e., they expose the upper part of the foot) and have a closed toe.
Balmorals: A type of Oxford shoe. Balmorals typically have no seams other than the toe cap. They are also distinguished by their "V" shaped lacing panel over the instep.
Bespoke: Hand-made shoes designed for a particular customer.
Blucher
: A leather shoe that is made with two parallel flaps that are laced together across the forefoot. Blucher
shoes are easier to adjust than balmorals.
Boat Shoes
: A casual, closed-toe shoe designed to be worn on a boat. Boat shoes have a rubber-siped sole. (Sipes are narrow grooves in the sole of a shoe designed to dispel water in order to prevent slipping.)
Boot
: A shoe with an upper that extends above the ankle.
Brogue: A heavy oxford-style shoe. Brogues usually have wingtips and brogueing or perforations. The shoes originally were popular country shoes in Scotland and made from untanned leather.
Brogueing: Ornamental designs along the seams of a shoe. Brogueing is done by punching holes in the upper. These holes were originally designed to allow water to drain easily.
Cap Toe
: This shoe style is adorned with a toe cap that is roughly shaped like the letter "D." Men's dress shoes are commonly designed with a cap toe; some would also classify Converse® All Stars®
as cap toe shoes.
Chukka Boot
: An ankle-height boot. Chukka boots are lace-ups and have little ornamentation. They are usually made from calfskin or suede.
Clog
: A shoe with a closed toe and open back. Clogs
have a platform heel. They were originally made with wooden soles.
Derby
: A man's leather dress shoe
. Derby shoes
are distinguished by their open style of lacing that increases the shoe's adjustability. The tongue and vamp of a Derby shoe
are made from the same piece of leather. But instead of a "V" shaped lacing panel, the vamp is split into two parallel flaps (||) that are laced together. See blucher.
Embossed Leather: Any leather to which a pattern has been applied by extreme pressure. Sometimes embossed leather is used to imitate specialty leathers such as crocodile.
Espadrille
: A shoe or sandal with woven rope covering the sole. The upper is usually canvas. Espadrilles
are popular summer shoes.
Flat
: A woman's shoe with little to no heel.
French binding: A thin strip of cloth or other material that is sewed along the shoe's uppermost edge (i.e., its topline) and folded over.
Jelly Shoes: Shoes made entirely of Polyvinyl Chloride—a translucent, rubbery material. Also spelled Jellie
.
Jodhpur Boots
: A low-cut boot originally designed for horseback riding.
Loafer
: A slip-on shoe with no laces, buckles or any other fasteners. Loafers

originated in Norway and should provide a soft, comfy fit.
Mary Jane
: A woman's closed-toe shoe characterized by a strap across the instep. Mary Janes
can come with low-to-medium heel height.
Medallion
: An ornamental design on the toe cap of a men's or women's dress shoe
. A medallion
is usually made by punching small holes in the upper.
Moccasins
: A soft, leather slipper. Moccasins
are traditionally made with a single piece of leather for the bottom, side and back parts of the shoe. The vamp is attached to the rest of the shoe with whip stitching.
Monk Strap
: A wide strap across the instep that buckles on the side of a closed-toed shoe.
Mule
: A slip-on shoe with an open back. Mules
usually come with low to moderate heels and can be dressy or casual.
Oxfords
: A traditional leather dress shoe that laces over the instep. Oxfords

are usually black or brown with minimal embellishments (although there may be some brogueing). Oxfords
originated in Ireland and Scotland. See Balmoral.
Peep Toe
: A woman's shoe with a small opening in the toe box that reveals the toes. In all other respects, this is a closed-toe shoe. Peep toe shoes

may be dressy or casual; they come with and without heels.
Perforations: See brogueing.
Pinking: Zigzag edging used as trim.
Platform Shoe
: A shoe with thick soles at the front of the foot. The heel is also high to accommodate the raised forefoot.
Pump
: Closed-toed women's dress shoe
with a moderate heel. Pumps

do not have any straps or fasteners and are normally low-cut.
Saddle Shoes
: Shoes made with a swatch of leather sewn in a contrasting color across the instep. The classic saddle shoe
, popular during the 1950s, was white at the toe and the back of the shoe and had a black "saddle" that stretched across the instep.
Sandal
: A type of footwear characterized by a sole that is held to the foot with strips of leather or other material.
Slide
: A shoe with an open toe, open back and band across the forefoot.
Slingbacks
: A women's shoe with a strap that encircles the heel. The strap is usually elastic, or it fastens with a buckle to ensure an adjustable fit. Slingbacks
may be dressy or casual; they come with and without heels.
Spectators
: Shoes that are designed with two contrasting colors. Spectators were popular among jazz musicians in the 1920s. They often sport wingtips

or cap toes.
Stilleto: A shoe with a thin heel that is at least 4 inches long.
Wedges
: A high-heeled shoe with a heel that extends from the rear of the shoe to the ball of the foot.
Wellington
: Pull-on rubber boots designed to keep the feet and lower legs dry.
Wingtip
: This shoe type is adorned with a toe cap that is roughly shaped like the letter "W." The toe cap comes to a point at the center (almost like a widow's peak). Wingtip shoes are a popular style for men, although they are sometimes made for women too.
Go to CHAPTER 3 – What to Look for in an Athletic Shoe