<
Characteristics of Quality Hiking Boots
Tips for Buying Boots for Children
Characteristics of Quality Work Boots
A Word on Orthopedic Work Boots
Some boots are designed to protect our feet from the rain, from the wear and tear of a 20-mile hike, or from hazards in the workplace. Other boots enable us to glide over snow, fly on a horse's back, or strut down the street in style. And while such boots may not always resemble each other in shape, material, or purpose, they often are designed to take us to the extremities of adventure and fashion.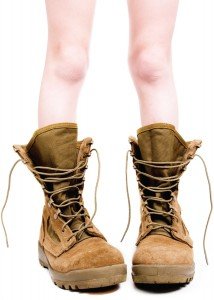 In this chapter, you will discover how to:
And much more! Whether you can hardly wait to play in the snow or need a serious pair of boots that will get the job done, this chapter will point you in the right direction.

Hiking Boot
Classification
The first step in purchasing hiking boots
is deciding which type of boot best meets your needs. Boots are generally divided into four major categories from Class A to Class D. The best category for any given hiker will depend on that hiker's experience and the types of trips he or she intends to make.
CLASS A | Hiking Shoes
or Trail Boots
. These boots are best for beginning hikers, or hikers who plan to stick to well-maintained trails. The shoes are made from a combination of leather and a lightweight fabric such as nylon. The shoes are designed to be flexible, and the cut of the shoe is lower than heavy-duty hiking boots
.
Trail Running Shoes
or Cross Trainers
are generally classified as Class A shoes. These heavy-duty running shoes are designed for long-distance runs on well-maintained mountain trails. Hiking Sandals
—perfect for low intensity summer excursions—are also Class A shoes.
CLASS B | Cross Hikers
or Mid-Weight Boots. These boots are ideal for multi-day hikes on maintained trails or off-trail terrain. The soles of the boots are less flexible than Class A boots, and the boots come up higher around the ankle (for extra support). Class B boots are also made out of slightly stiffer, more durable material than Class A boots, and as a result, they take longer to break in. Nonetheless, mid-weight boots are still manageable for a beginning hiker.
CLASS C | Off-Trail Boots
or Heavy-Duty Boots
. These boots are perfect for off-trail adventures. They are stiffer, higher, and more high tech than your casual hiking shoe, and they can be too much to handle for an inexperienced hiker. Class C boots generally have a toe cap (for protection), high-tech materials such as Gore-Tex (a waterproof yet breathable material) and additional shock absorption.
CLASS D | Mountaineering Boots
. These boots are for the serious mountaineer and are usually used in conjunction with Crampons (steel or aluminum spikes that are used for traction when hiking across snow or ice). They can protect the feet against sub-zero temperatures and may be just what you need if your plan is to scale the Rockies.

Characteristics of Quality Hiking Boots
Quality hiking boots
share many characteristics with quality athletic shoes including excellent arch support and specialty pronation features.
Thick rubber soles: The soles of hiking boots are thick, and with good reason! If you felt every rock you stepped on during a 10-mile hike, the soles of your feet would be mighty sore by the day's end.
Deep tread: Look for hiking boots with deep tread or lugs. A treaded sole will give you the traction you need when trudging along muddy trails or navigating a steep descent.
Ankle support: Uneven trail surfaces make hikers vulnerable to sprained ankles. Look for boots that come up just above the ankle. Boots should also be fairly stiff in this area, providing lateral rigidity that will protect the ankle in case of a fall.
Lightweight materials: Hiking experts suggest that every extra pound of boot is equivalent to adding 5 pounds to your pack. High quality boots will be durable and lightweight.
Padded scree collar: The back of your hiking boots should dip slightly to protect the Achilles tendon from chafing. This collar should be foam padded for comfort.
Note: It is called a "scree" collar because it is designed to prevent small pebbles and rock fragments, or scree, from slipping inside your boot.
Hooks above the eyelets: These metal hooks will help you to cinch laces tightly around the ankle.
Waterproof or waterproof-able: As any hiker who has ever been caught in a thunderstorm will tell you, keeping your feet dry is essential to keeping up your spirits and stamina as well as preventing blisters. Look for boots made from waterproof material or from leather or fabric that can easily be waterproofed with the right product. (See Chapter 7.)
Breathable uppers: No matter how effective hiking boots are at keeping water out, they should still be made out of breathable material that allows sweat to evaporate.
Gusseted tongues: If you are going to be hiking in wet conditions, look for boots with gusseted tongues. Gusseted tongues are attached to the upper on either side of the tongue with thin flaps known as "gussets." These gussets prevent water or trail debris from entering the boot.

Hiking Boot
Shopping Tips
Like all shoes, it is best to shop for hiking boots
in the afternoon when your feet are slightly swollen. Wear the socks you plan on wearing with your boots, and try not to pay too much attention to the boots' numerical size—hiking boots
are sized differently than regular shoes.
Loosen the laces and slide your toes to the very front of the boot. You should be able to slide your index finger between your heel and the back of the boot.
Once you have laced up the boots, make sure your toes lie comfortably flat and your heel is not sliding up and down. You should practice walking up and down inclines. In particular, make sure that your toes do not ram into the toe of the boot when going downhill.
If you have the opportunity to visit a hiking equipment store such as REI with knowledgeable staff, it is well worth the extra drive (or hike).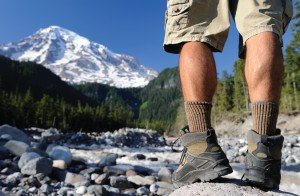 When winter comes most of us need a little something extra to keep our feet toasty warm as we trudge through the slush. Insulated boots
are one of the best ways to beat the winter blues. Please read about the common types of insulation below:
When it snows, most children cannot wait to dash outside and explore

the winter wonderland. Of course nothing ruins a romp in the snow faster than a pair of wet, freezing feet.
Children in snowy climates will need a good pair of snow boots
. Make sure the uppers are waterproof and extend at least to the mid-calf. The boots should also come with a thick, rubber sole that has excellent traction. Additional recommendations include:
Pull-on boots: You want your child to be able to put on and take off his or her boots without any assistance. Avoid laces, which can be difficult to manage with cold fingers, and instead opt for something that can be pulled on and off, or with hook-and-loop fasteners such as Velcro®.
Drawstrings: Choose boots with a drawstring at the top that can be cinched around your child's leg. This will prevent snow from slipping inside the boot.
Extra room for snow pants: Ideally you want to be able to tuck your child's pants or snow pants down into the boot. The goal is to keep the entire lower leg and foot dry.
Removable liners: Look for boots with removable liners. This will help you quickly dry the boots after a long day in the snow.
Extra room for thick socks: Most children will wear thick socks with their winter boots. You may need to purchase boots that are a half size larger to accommodate the socks.

Characteristics of Quality Work Boots
A pair of work boots
that will withstand the test of time is an essential tool for workers in many professions. While work boots
vary depending on your specific line of work and work environment, there are several basic features that you should look for:
Reinforced toe box: Toes are a particularly vulnerable area of your body and a reinforced toe box, or even a steel toe, can help protect you from injury. A boot with a reinforced toe is absolutely essential for professions that involve heavy lifting or power tools.
Slip resistant soles: Most quality work boots should have thick, rubber soles with deep tread for excellent traction. If you work in an environment that commonly has wet or oily floors, make sure your boots advertise "slip resistant" soles.
Molded outsole and upper: Boots that have the upper and outsole molded together will last longer than boots that are glued or stitched together.
Weather appropriate: If you work outside in cold temperatures, make sure to purchase insulated boots. Choose boots with the appropriate amount of insulation for your climate. (Boots are typically made with anything from 200 to 1,000 grams of insulation material. The amount of insulation in any particular pair of boots should be listed on the boot's label or included somewhere in the packaging materials.) Too much insulation will cause your feet to sweat and can actually make your feet cold. Waterproof boots are necessary for wet climates.
Breathable materials: Most quality work boots are made from leather. If you work in a hot climate, you may want to investigate boots with mesh gussets that allow your feet to breathe. In any case, your boots should not be so water-tight that air cannot circulate. This will cause your feet to sweat, which can lead to blisters.

A Word on Orthopedic Work Boots
Work boots
are tough, durable boots that can be hard on the feet, especially if you suffer from diabetes or other conditions that can make your feet sensitive to minor injuries. The good news is that orthopedic work boots
do exist. In general, they will be able to accommodate orthotics and other orthopedic inserts. They will be made from slightly softer leather that does not require a break in period. And they will have padded tongues and collars for extra comfort and protection.
P. W. Minor makes several different versions of orthopedic work boots
. One of these boots, the Hercules, is described as an "Oil Resistant Steel Toe Work Boot," and it offers 25 percent additional depth and 13 percent additional space in the ball of the foot to accommodate orthotics. The boot is made from soft acid-resistant leather.
The shoe company Drew®
also makes an orthopedic work boot
called the "Big Easy"
that may be ideal for someone who wants a lightweight work boot without a steel toe. This boot is extra-wide and has a padded tongue and collar. It is lined with a material specifically designed to wick away moisture and keep the feet cool and dry.
These are just two examples of work boots
designed for feet that need a little extra comfort and protection. The takeaway message here is that you can still protect your feet in hazardous work environments without punishing them in stiff, unrelenting boots.
Go to CHAPTER 5 – What to Look for in an Orthopedic Shoe